Until recently, we offered to our customers to optionally rent handheld GPS devices with the tracks for their daily walks preloaded. While this was a nice add-on to the route notes and paper topo maps we provide, there were many drawbacks, e.g.:
GPS devices are not so easy to operate, especially if you do not have previous experience
As we had to buy the devices, we had to rent them out to customers so that we can at least partially pay off our investment which increased the total trip cost
Devices often get lost or broken during the hikes
GPS devices are bulky and carrying one more device while hiking (apart from your phone and eventually camera) and the need to take care of it (including to bring extra batteries with you) often offsets the benefits of having it
The devices had to be returned to us at the end of the holiday, so our clients could not use them to record  and track their hikes and keep the tracks for themselves or share them with friends
Having teamed up with industry leaders, starting in 2018 we are launching our free smartphone navigation app (available for Android and iOS devices), which will gradually eliminate the need of bringing a separate GPS device on our itineraries. Our new tours will immediately benefit from navigating by the app, and we are gradually adding all of our itineraries to it.
The benefits of using the app: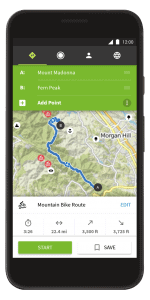 It's completely free (but you still can buy additional maps from the app developer)
Having downloaded the tracks (emailed by us before your departure), you can use it offline to save battery and eliminate roaming charges
Know exactly what to expect and complete peace of mind that you are on the right track
Use it to record your hikes (not only with us but any hikes or other activities) and keep them private or share them with your friends
Use and automatically sync between many different devices (desktop, tablet, smartphone, Apple Watch, Garmin devices and many more)
On some holidays, the app can completely eliminate the need for bringing paper route notes and maps; all the guidance info will be readily available in the app – this will both make life easier for you and will further reduce the environmental impact of our holidays!
Looking forward to naturally adventuring with you!